Hot Sock Swap Package Arrived!!
I received a package from my Hot Sock Swap Pal. She really out did herself with this amazing package. Check out her
blog
. I am continually amazed by the generosity of my swap partners.
There were two skeins of Artyarns Supermerino in the most delightful shades of blue and teal. She also included a 47", size 1, Addie Turbo circular needle, some sock shaped point protectors, and a Holey Sock Pattern. I can't wait to make some socks. There was also a skein of Knitpicks color your own yarn. I'm going to have plenty to keep me busy.
There was a collection of teas and coffees, some cute note cards, and homemade orange/cranberry/almond biscotti. I can't wait to try the biscotti and the tea. She sent me a keychain sock blocker. How did she know I had been coveting one of those for months? It is so unbelievably cute!!
Thank you Paula!! I love everything!! And, no, I am not an Alabama fan -- not really a fan of football. I think they should do away with time-out and just let the clock run. Don't you think it would make the game more challenging?
MYSTERY SOLVED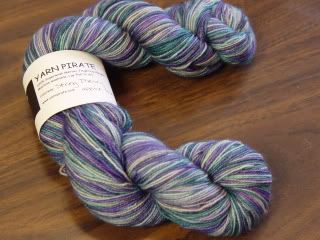 This beautiful yarn from yarn pirate is from my One Skein Angel. I've already sent her my thanks but I wanted to thank her here as well. I will be busy knitting socks for quite some time.